Revenue management is the art of using the right methods in restaurants and hotels to achieve optimal revenue growth. We present 5 strategies combined with innovative technology that have proven successful in practice.
Content:
What is Revenue Managmement all about?
1. No-Show Prevention
2. Ticketing and Presale
3. Personalized Upselling
4. Double Seating
5. Targeted Retention Marketing
What is Revenue Management for restaurants all about?
We know that you're already under immense stress in the restaurant and can barely keep up with everything. And now, on top of that, you're supposed to dive into Revenue Management??? Yes! Because it benefits you in three major ways.
1. The measures significantly reduce stress as they lead to better planning and help attract more appreciative guests to the restaurant. 2. At the end of the day, more profit remains, allowing for better liquidity and the ability to pay fair wages, which can alleviate staff shortages; 3. Optimized processes also increase customer satisfaction, making for a more pleasant work environment.
Whether it's an individual restaurant, a restaurant with multiple locations, or the hotel business - the following 5 methods can practically be implemented for Revenue Management in the daily restaurant routine.
1. No-Show Prevention
Michel Péclard from Pumpstation Gastro GmbH in Zurich estimated the damage for his 17 establishments at «at least 100,000 CHF annually.» Meanwhile, his company has adopted no-show prevention for online reservations. This requires guests to provide their credit card details.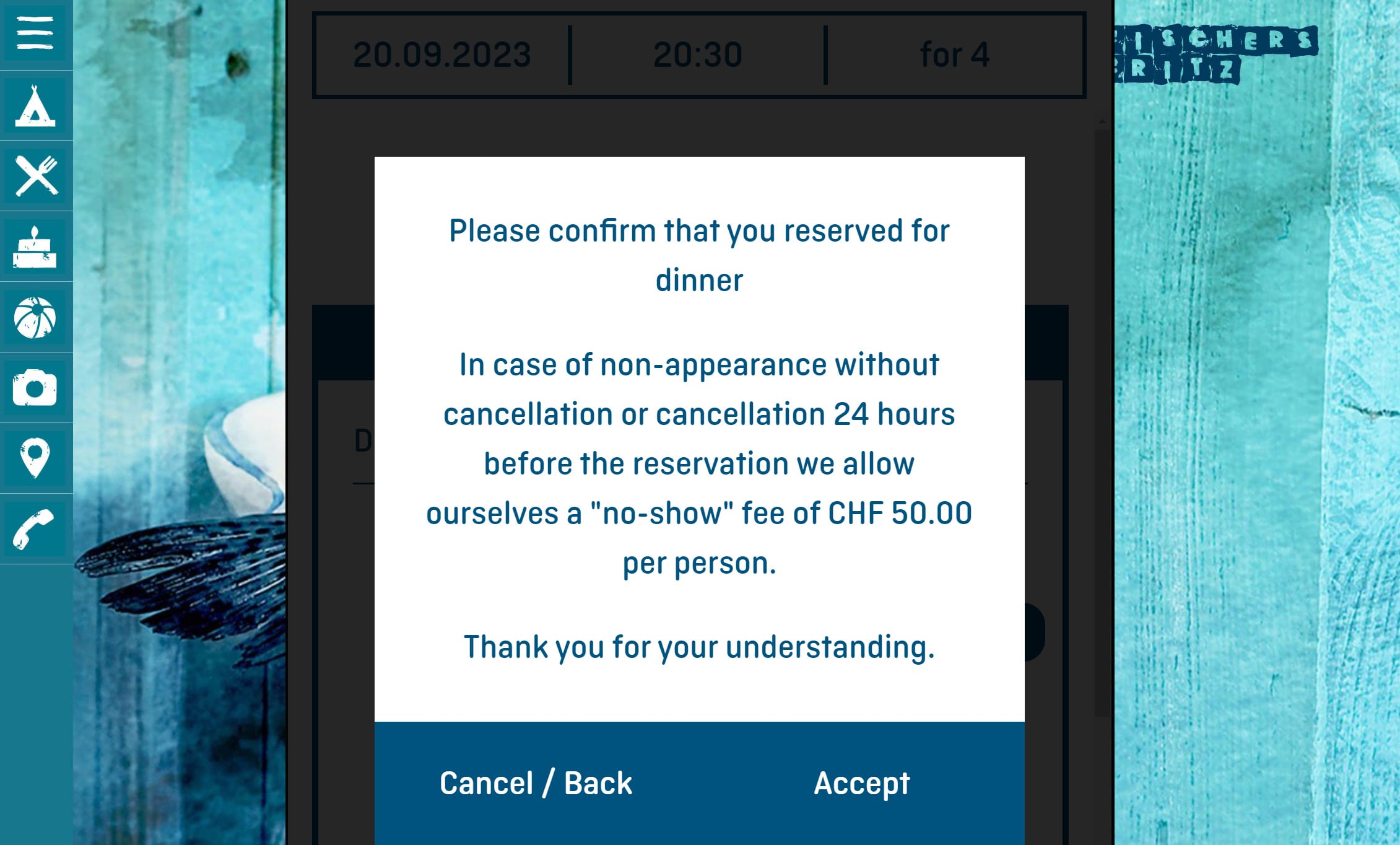 If guests fail to show up without prior cancellation, they are charged a no-show fee. VIPs and regular customers with no no-shows can be exempted from this requirement. This can easily be implemented with the restaurant management system, aleno.
By the way, restaurant operators don't need to fear implementing no-show fees. Four-fifths of 800 participants in an online survey find it fair for restaurants to charge no-show fees.
Moreover, in practice, it's rare for a no-show fee to actually be collected. It serves more as a disciplinary measure. And it works. People now cancel in a timely manner when necessary.
2.
Ticketing and Presale
Preselling menus and events is an interesting opportunity for restaurants to secure revenues, optimize procurement and staff deployment, and reduce stress in the kitchen. Yet, very few restaurants make use of this opportunity.
The implementation is quite straightforward: Guests can preorder menus or tickets for culinary events right when making an online reservation, and also pay in advance. For example, they can choose between a 4-course or 5-course menu and decide if they'd like it to be accompanied by wine or juice. This method allows restaurants to plan their capacity precisely and ensure that no resources are wasted.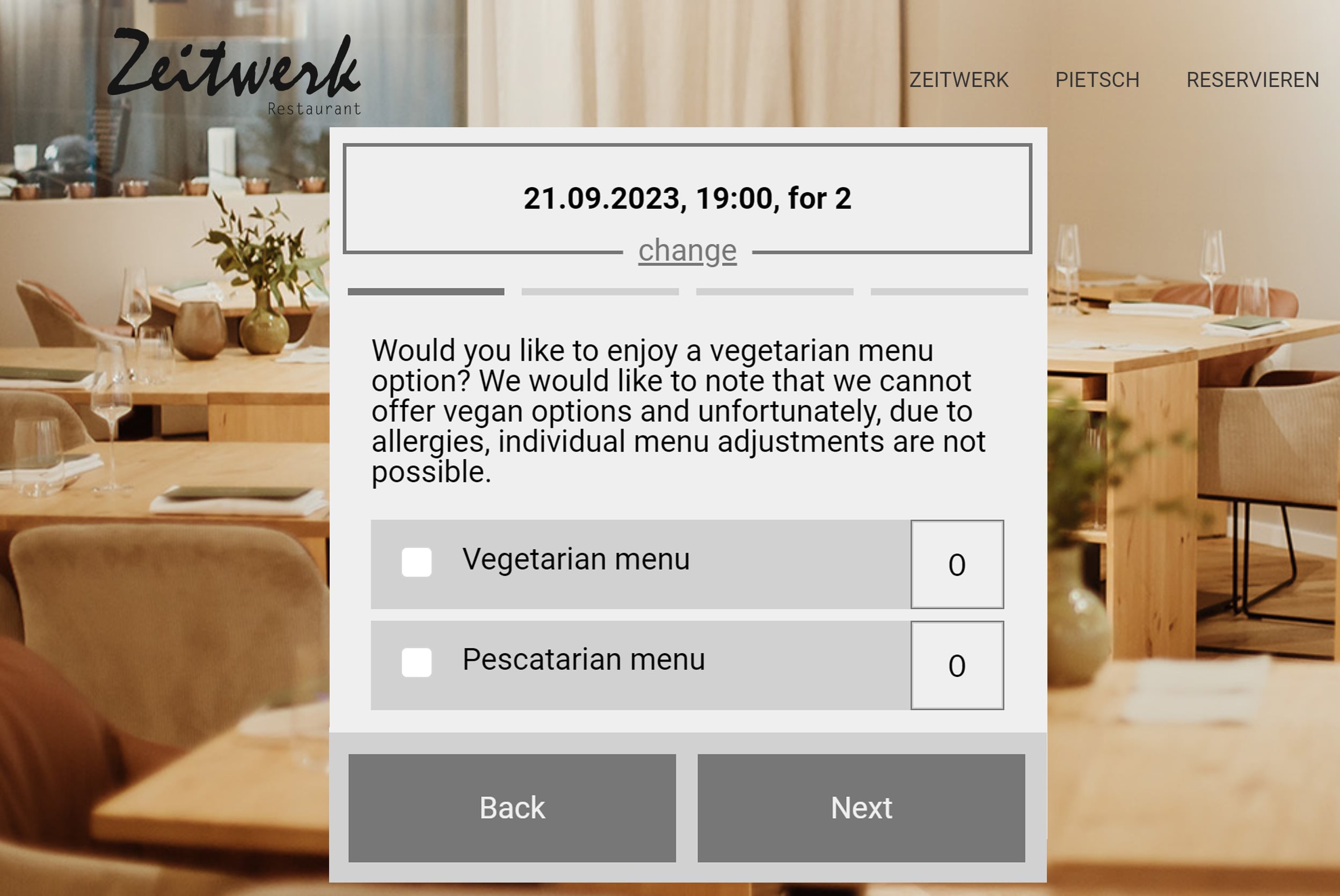 A prerequisite for this is a reservation tool like the one from aleno, which provides the option to directly integrate additional queries, such as the desired menu, during online reservations and to also process payments via credit card immediately.
Experience has shown that guests who have already paid in advance are more inclined to order additional offerings on top when at the restaurant. Hence, preselling also acts as a supportive measure for successful upselling.
3. Personalized Upselling
Personalized upselling involves service staff recommending higher-quality or additional dishes, beverages, or desserts to guests that align precisely with their tastes. The crucial distinction here is that it's not merely about offering pricier products but those in which guests are genuinely and highly likely to be interested.
But how do you determine what guests like? The key to success lies in integrated systems. When the cash register system is linked with the reservation system, pure sales figures suddenly get a name attached. With the Restaurant Management System aleno, you can instantly see what guests have consumed during previous visits and even during visits to a different branch.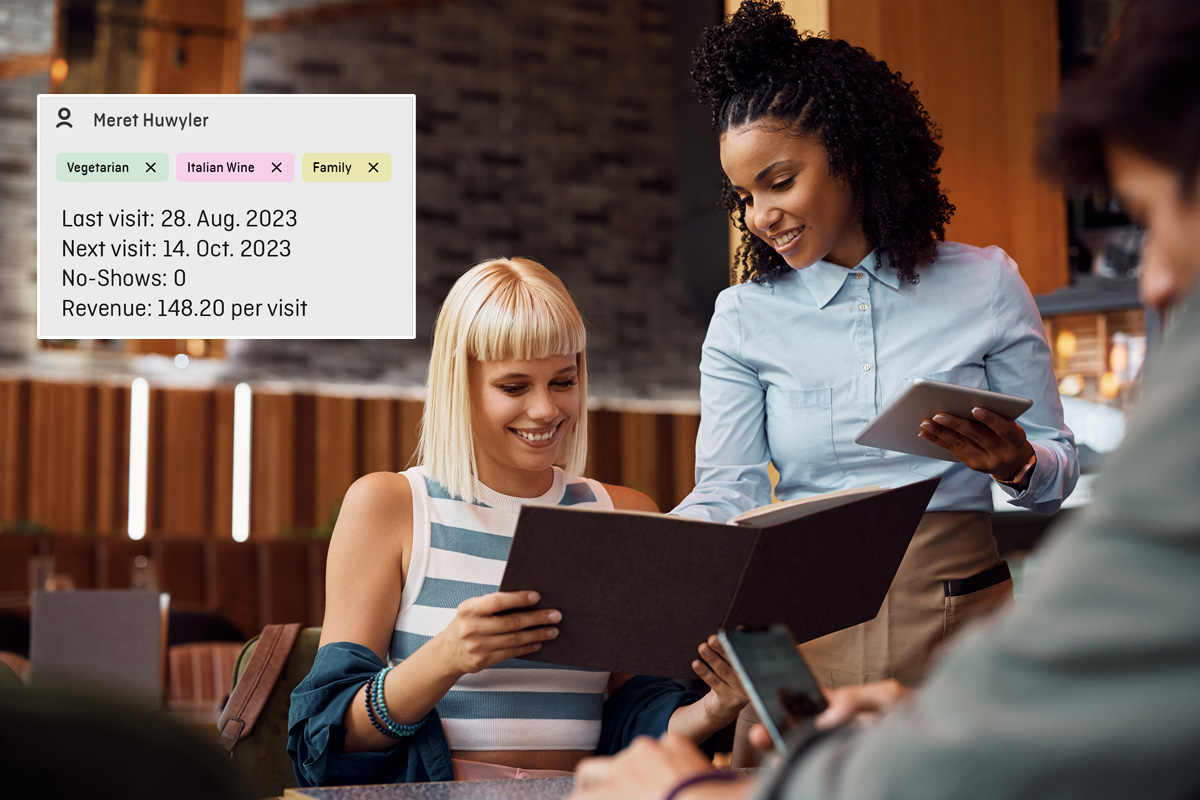 Moreover, staff can add additional information for each guest and assign individual tags – for instance, "Vegetarian" or "Italian Top Wines." Information from review management also proves useful. What did the guests praise or criticize during their last visit? This data is automatically fed into the 360-degree guest profiles, providing perfect information for successful upselling.
4. Double Seating
Double seating in restaurants is a tremendous lever for significant revenue increases. With this practice, a table is assigned to different guests multiple times over a specific period. This method is often employed in busy restaurants to maximize the number of guests served during peak hours.
An example of double seating is when a restaurant assigns a table to one guest at 6:00 PM and the same table to another guest at 8:00 PM. It's evident that guests need to arrive on time, and the service must be efficient. This ensures that the table is available promptly for the next guests.
For this to work smoothly, three things are essential:
Smart Booking and Guest Management System: A foundational requirement is software that efficiently manages and tracks reservations. It should also be capable of sending reminders to guests so they don't forget their reservation time.


Good Communication: It's vital to inform guests at the time of reservation that their table is only available until a specific time and they should arrive promptly. This information should be reiterated in confirmation emails and text messages.


Efficient Service: The staff must provide service as efficiently as possible. This definitely doesn't mean rushing the guests. Instead, ensuring there are no unnecessary delays is crucial. In this regard, pre-ordering and preselling (see point 2 above) are particularly helpful.
5.Targeted Retention Marketing
Targeted Retention Marketing" refers to a specific marketing strategy focused on converting one-time guests into repeat visitors and strengthening their loyalty to the hotel or restaurant. Instead of focusing on acquiring new customers, retention marketing emphasizes the value and profitability of returning customers, which is doubly beneficial.
Firstly, a common marketing adage is that acquiring a new customer can cost more than retaining an existing one. While exact figures can vary based on the industry, market conditions, geographic location, and other factors, it's often said that gaining a new customer can be five to 25 times more expensive than keeping an existing one. This holds true for the restaurant business as well.
Secondly, practice shows that the average revenue per returning guest is considerably higher than for those visiting the restaurant for the first time.
So, how can restaurants implement Targeted Retention Marketing? Here are some suggestions:


Personalized Offers: Restaurants can offer special discounts or deals to regular customers to reward their loyalty and encourage them to return.


Loyalty Programs: Many restaurants have loyalty programs where customers earn points for every visit or purchase, which can be exchanged for rewards.


Email Marketing: Sending newsletters with exclusive offers, event invitations, or updates about the restaurant can maintain customer relationships.


Feedback Loops: Restaurants can use feedback tools to hear from their customers about what they love or want to be improved. This shows customers their opinion is valued and helps the restaurant continuously improve.


Social Media Engagement: By sharing customer reviews, stories, or special moments on social media, restaurants can build a community of loyal fans.


Exclusive Events: Some restaurants host exclusive events or previews for their most loyal customers to show their appreciation.


Reminders for Special Occasions: Sending special offers or vouchers to customers on their birthdays or anniversaries lets the restaurant demonstrate they care about the customer.


All these measures help keep the brand top-of-mind for former guests and encourage them to revisit the restaurant or hotel.


The implementation of the above approaches, supported by smart restaurant management systems like aleno, allows restaurants and hotels to tap into their full potential and build a loyal customer base. It's clear that the future of gastronomy lies in a combination of technological innovation and personalized service.