As diverse as the catering industry is, so are the POS solutions available for restaurants. What types of POS systems there are, what is important, what they can do and for whom they are suitable is what we are talking about here.
What is POS?
First of all, the point of sale (POS) (or Point of Purchase) is the time and place where a retail transaction is completed. The moment a customer brings their purchase to a merchant to pay. This can be physically bringing an item to the cash register at the front of the store or clicking "Pay Now" after adding everything to your virtual cart.
A POS System is both the software and hardware used by the seller to make this transaction.
What are the differences between POS solution and a Cash Register?
Cash registers have been around for 100 years and are now being replaced by POS systems. Most cash registers have little memory for data storage, are not able to track inventory, and do not update for price changes or sales. POS solutions include all the basic functions of a cash register in addition to many more features. With touch screens, internet connection, cloud based storage, sales tracking and higher security, POS systems are the best option for modern businesses and cater to a wide range of different needs.
What kind of POS systems are there?
POS systems differ depending on the needs of the businesses, both in software and hardware. Not all businesses need specific hardware, for example online retailers or small businesses that can take the payment through a POS app on their phone. In the context of the food & beverage industry, there are portable options that can be brought to tables where diners are seated or larger POS terminals at the front of the restaurant or bar.
In this article we will be going over the five main types of systems that cover all of the needs of different types of businesses from small family run cafes to international restaurant chains.
Terminal / Touch-screen
Terminals are used wherever sales and service take place at a fixed location, like at the counter at a coffee shop or at the bar in a restaurant. These are usually touch screen fixed location hardware pieces with intuitive software and speed up the ordering and checkout process. Either tablets or desktops with both readers for electronic payment and cash drawers for cash payments are used. One positive of these is the hardware does not have to be moved and can include more or larger devices, e.g. large screens, receipt printers, scales.
The terminal can also be used as a hub for several mobile POS, e.g. if cash payments are rare and cash is only kept in one place. These terminals can be expensive, on top of monthly subscriptions to software. These are best for larger fast passed businesses that need an easy to learn system.
One provider of this type of POS is Hypersoft, see a review of the system here.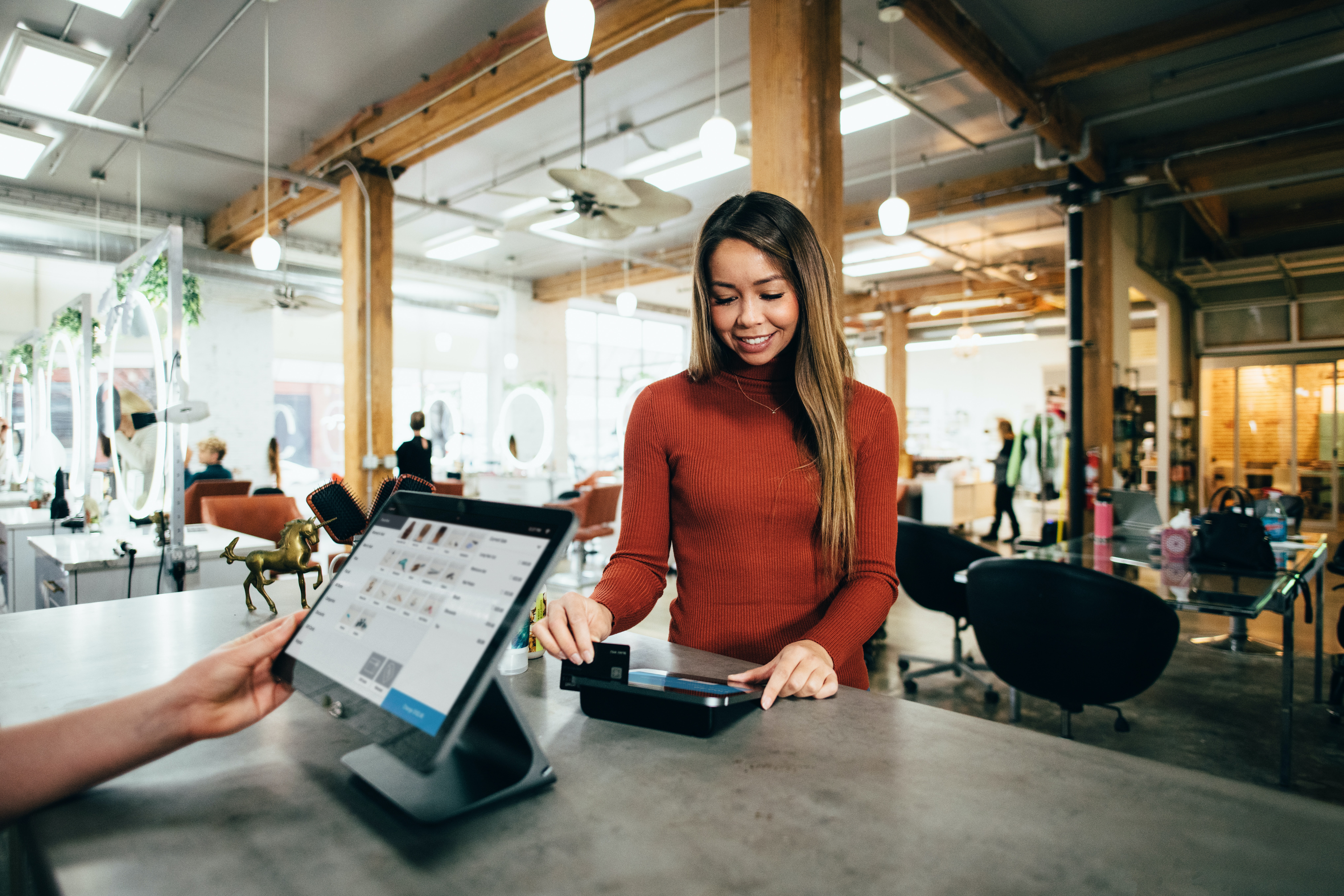 Mobile / Tablet
Mobile cash register solutions on mobile phones or tablets enable ordering, serving and payment at changing locations or at the guest's table in the restaurant. The cash register comes to the guest and not vice versa. Accordingly, mobile POS solutions must be small and handy and have wireless or internet capability so that, for example, payment can be made and the kitchen or bar is informed about the order.
Mobile POS solutions are more convenient for customers as the payment process comes to them while all data is safely kept in cloud based storage. Best for food trucks and high volume establishments needing speedy turnover. They are an investment as the cost of buying multiple portable systems adds up and they are at a high risk of getting lost, stolen, or broken when traveling around a store.
Clover is a provider of mobile POS solutions and you can read a review of them here.
Self-service kiosk
A self-service kiosk - also known as a self-order terminal - is a fixed station where guests place and pay for their order, either after they have already taken their drinks and food, or - if the food is prepared to order - before they pick it up. Personal service is thus eliminated or reduced to a minimum.
Self-service kiosks show their strengths particularly in establishments where the offer is packaged or put together by the guests themselves with reduced waiting time. Here, the focus is less on the experience and more on quick supply without waiting times. Best for fast-food or very large establishments with a high number of guests with a focus on fast turn over, or cafes with pre-made options ready ready for pick-up.
Cons to be aware of are these larger self-service terminals are far more costly then a desktop or handheld alternatives and offer limited customizations as customers can only only pick from what's on the screen rather than discussing options with a server or staff member.
Along with other POS options, Revel Systems offers self-service kiosks and you can read a review of them here.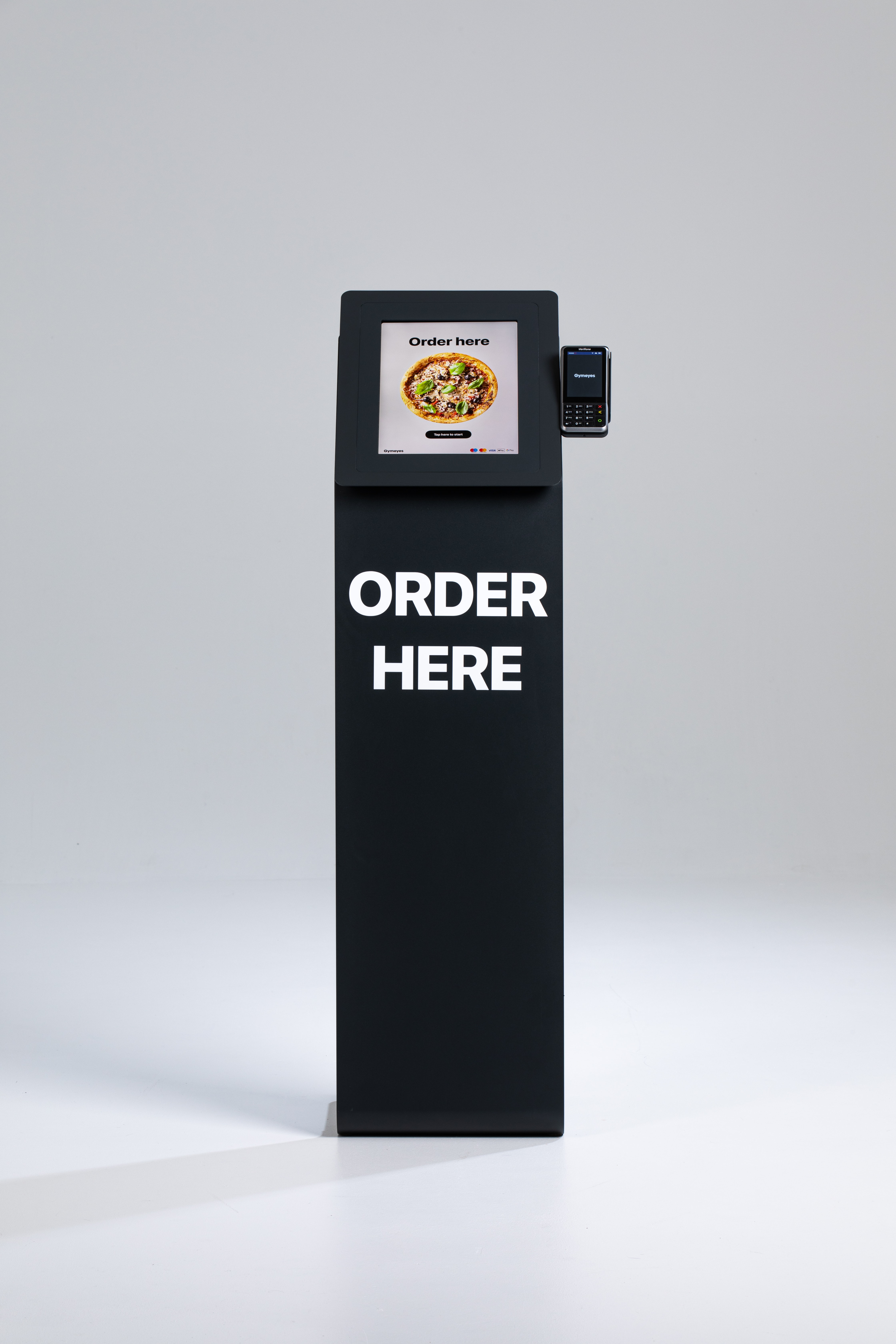 POS Apps
Great for new or small businesses, POS apps can be downloaded on hardware you already have, like a phone or a tablet using either Android or iOS depending on the app. There are also iPad exclusive POS apps available. Much like mobile POS, apps can be downloaded onto a phone or tablet and moved where they are needed and come at a much lower cost than subscribing to a software and buying the accompanying hardware.
But this comes with expected drawbacks like limited features and functionality in comparison to more complete POS systems and some security risks when using online apps. Online sellers and new businesses will likely benefit from starting with a less expensive app and then switching to a POS solution with an accompanying terminal once the business grows.
Square has free app with some in app purchase options and you can read a review of it here.
Cloud-based
As long as you are connected to the internet, you have access to your cloud-based software and can complete payments. Restaurants with multiple locations benefit from a system like this as everything is synced and live updates records to all devices.
Different cloud-based softwares can be download onto your choice or mobile device or terminal with a monthly subscriptions fee. For smaller businesses this can be a good way to save on hardwares costs and gives you the option to move the POS to where its needed. As well as stay updated on sales, inventory, and records remotely as long as you have internet access. However, if there are issues with internet connection then business will not be able to access their POS system.
A popular POS solution Lightspeed offers a number of systems including cloud-based and a review of them can be found here.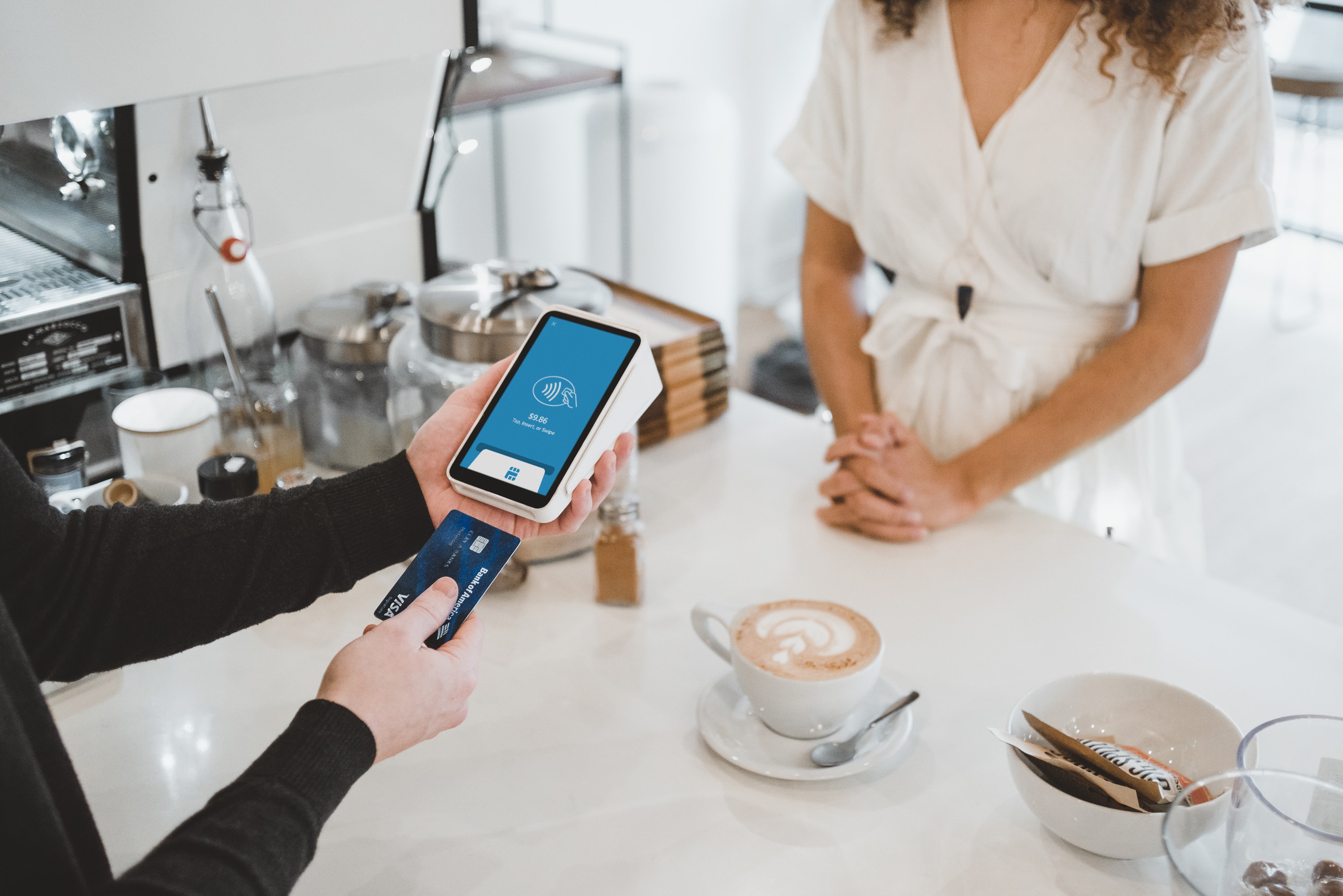 What is important with POS systems?
The POS hardware must fit the business
The best self-service kiosk is of no use if most guests want to speak to a server when ordering and paying. Looking closely at your restaurant and not only what will work best but also what are your goals. If you want more personalized service and to create the most comfortable experience for the guest, then a mobile POS solution that can be brought to a customer is probably the best option. And if you have fewer staff members but still want to maximize turn over than a self-service terminals are the way to go.
Remember, different hardware and software options can be combined to create a customized system that works best for your business.
Functionality of the software
The software must match the operational process need. A food truck does not require digital information from the kitchen about allergies, the sequence or times between courses, live goods management, or payment options at the table.
In a fine-dining restaurant it's different. Here, everything has to be to the point, every wish has to be fulfilled, perfect coordination between service and kitchen is central, as is the reservation and payment system. This is where the differences in software options will play a large role in the decision making process and typically the price will match accordingly.
Integrations with other systems
To improve efficiency its hugely beneficial if the POS solution is integrated with the reservations, guest, and table management system. This allows for seamless flow of data from one system to another, allowing for less work on the side of the staff as well as creating an improved experience for the guests.
A connection between POS and reservation/guest management allows staff to see what guests have ordered not only on the day but also in previous visits. This information can be used to give personalized recommendations to returning customers. An example of this is the integration between aleno and Lightspeed.
Picking which POS system is right for you can be a difficult process - these 6 things to look for when buying a POS system will help you narrow down your search and pick the right POS for you.
What POS systems are available for restaurants?