It is essential to collect data digitally
The most important prerequisite for automated marketing in the restaurant business is guest data. This can be collected automatically in large numbers via online reservations and take-away orders (more on this in our article on restaurant marketing). Just this much: guest data becomes gold when contact data, behaviour, consumption and preferences are digitally recorded. For example, with so-called individual guest tags. Figuratively speaking, you attach a label to the guests, i.e. a tag.

For example, if a guest orders a glass of champagne as an aperitif, a "Champagne Lover" label makes sense for this person. If someone chooses exclusively vegan dishes and indicates this in the online reservation, this should be noted with the label "Vegan".



Other examples are "Beef Eater", "Natural Food/Drinks", "VIP" and "Regular Guest". The award can be manual or automated. For example, after the fifth reservation, a guest can be automatically marked as a "regular guest" by the system.
Use open systems
Experience shows that professional restaurant businesses use different systems for their workflows. Reservation and cash register systems, ordering systems, software for newsletters, revenue and evaluation management, for staff planning, for analytics and much more. Every restaurant business has its own constellation. The problem with this is that the data cannot usually be used across software, but is only available in the individual applications. In some cases, it is not even possible to export the data for data migration.

This completely cuts off information flows. If, for example, the data of the POS system cannot be linked to the data of the online reservation, there is no overview of which guest has made how much turnover and what he or she has ordered. This means that meaningful segmentation of the data for individual guest targeting in the course of precise marketing is no longer possible. It is therefore important that the systems have open interfaces (APIs) that enable data exchange. Only then does the possibility for automated marketing arise.


5 use cases for automated marketing from the restaurant world
Example 1: Promoting events to the right target group
We are talking here about retention marketing. The aim is to build up a long-term relationship with customers or guests. According to a widely quoted study, it is six to seven times more expensive to acquire new customers than to retain existing ones. By keeping customers longer, the customer lifetime value (CLV) and the overall success of the company increases.

It is therefore worthwhile to re-address guests who have already been to the restaurant once. This works very well in connection with events. What kind of event is it? What kind of guests does it appeal to? Wine lover, beef lover, do-it-yourselfers, families with children? If you know which of the previous guests like what, you can send these selected people the appropriate offers. With the right words, the right pictures, on the right channels and with the right hangers. This is possible with automated marketing.


Newsletter as a trigger

Who to address? For a workshop "Fermenting - from vegetables to drinks", you select the appropriate guest tags, e.g. vegan, veg and hobby cook. To these - and only to these - you send a newsletter (for example via integration with Mailchimp). With a personal salutation and including a reservation link with tracking code. Thanks to the latter, you can see in the analysis tools who booked the event via the newsletter and whether the campaign was successful on this channel. More tips on email marketing can be found here.


Social media as a trigger

For larger events, email addresses of selected contacts can also be uploaded anonymously to Facebook Ads and Google Ads. This lays the foundation for a so-called Lookalike Audience or Custom Audience. The algorithms of the social network independently determine digital twins of the selected contacts. The Lookalike Audience thus corresponds to the previously selected guests in terms of characteristics and preferences.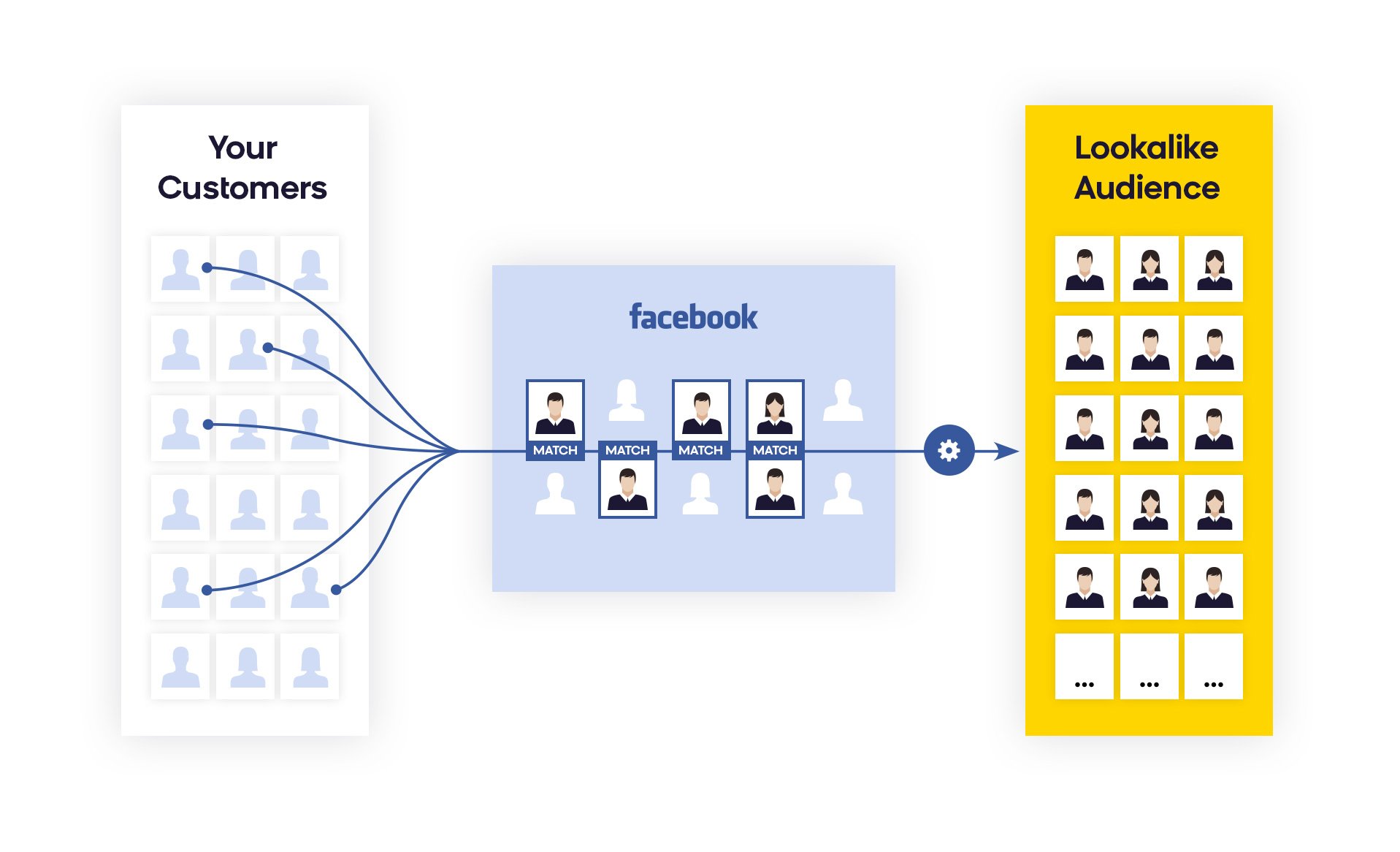 Image: The Facebook algorithm uses the email addresses of existing customers to find other people who strongly resemble them and plays them the appropriate advertisements.
There is a fairly high probability of reaching not only the original guests, but many more people who share many characteristics with these guests. From age to region of residence to musical preferences to recent holiday destinations and more. Hundreds of data points are taken into account (Vladan Joler has revealed interesting insights into the information Facebook algorithms work with).

The people identified in this way are thus also likely to be interested in the event. A reservation link including a tracking code ensures that guests can book without any hassle and that restaurateurs can evaluate the marketing measure. Read more about this in the article 5 tips for more reach with Facebook.
Example 2: Reactivation of former guests
This example also falls within the scope of retention marketing. And here, too, the probability of achieving considerable success is great. Especially with guests who have been to the restaurant several times but not for a while. Obviously they were satisfied, otherwise they wouldn't have come back. A very interesting target group. And easy to segment. The guest database shows the date of the last visit and the frequency of visits.

The selected guests can now be targeted and written to with the appropriate words, as an email. For example, that you miss them and would like to spoil them again. Thanks to automation and integration with newsletter tools such as Mailchimp, regular guests are automatically contacted as soon as their last visit was a long time ago. Without having to trigger the campaign manually.
Example 3: Advantages and surprises for regular guests
Returning guests love it when you recognise them, appreciate their repeat visits and show your appreciation. For example, sending them an email with a thank you. Vouchers, discounts, a special offer, or privileges with reservations and table assignments are also very much appreciated.

This nurturing of guests inside and outside the restaurant/hotel can be automated (more tips on this can be found here). Guests can be automatically tagged as regulars on their third reservation. When they visit the restaurant, they are then greeted and served like a regular guest or thanked afterwards by e-mail. So no one is forgotten.
As soon as the guest tag has been automatically generated, an e-mail is sent to the guest, saying that they are pleased about the repeated popularity, if necessary with special attentions: more short-term reservation possibilities or placement at the best tables - which is taken over by the automatic table allocation based on the guest tag in the case of a future reservation.
Example 4: Boosting pre-orders and upselling
This example concerns so-called revenue management. It is about boosting the turnover in the onsite and offsite business with the same high capacities. There are various ways to do this. For example, by offering the possibility to take orders directly with the online reservation.

This can be high-priced special menus that are only available on pre-order, or additional offers. For example, a glass of champagne as a welcome gift with a 20 per cent discount. Another possibility is to offer guests additional products after their visit to the restaurant. For example, guests receive an email from Alfons Schuhbeck the next day with offers for certain spices that were used in the preparation of the selected menus. A chain of Italian restaurants offers its guests the opportunity to order the wine they ordered with the menu the night before at a discount in the online shop.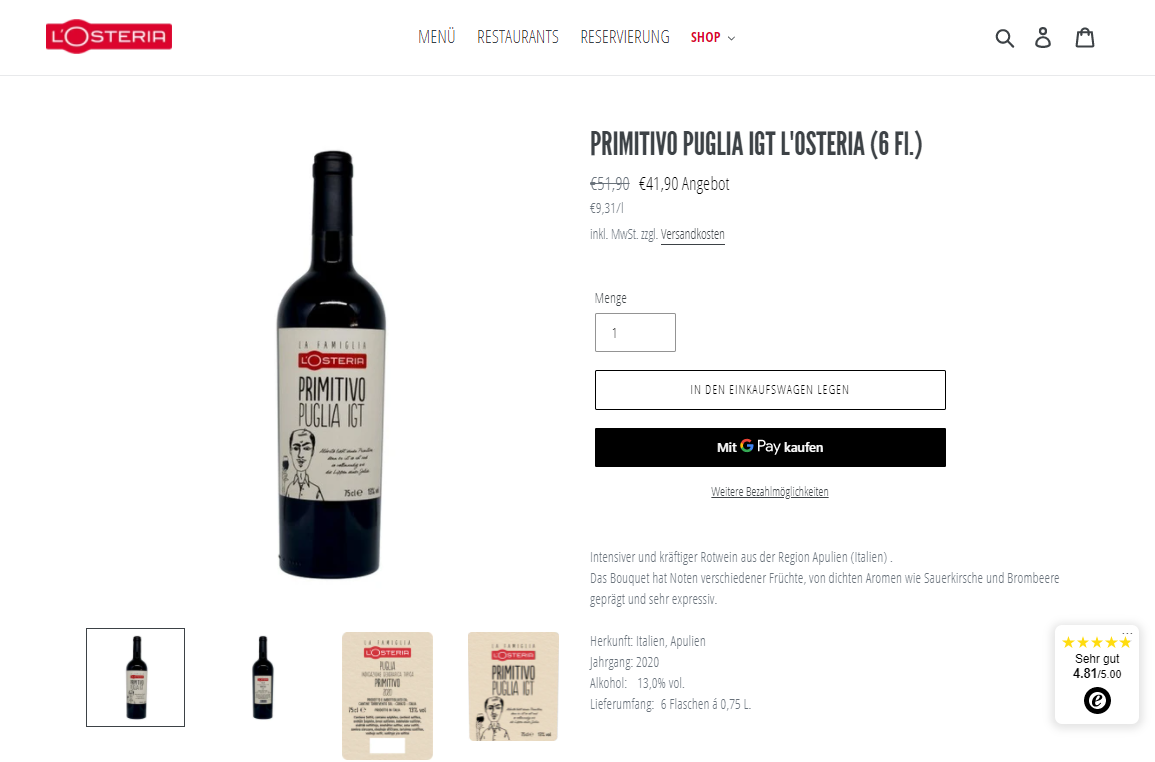 Image: Link in L'Osteria's personalised newsletter leads to special offer in the online shop.
This is possible via individualised discount codes. This requires a good concept so that the webshop also knows about the discount code, the newsletter tool generates it individually in the mails and receives the information from the reservation system about which guests should receive the mail with a discount code.
Many options for upsells are available, especially when the POS system is linked to the reservation system. In this way, guest information is linked to consumption data, and automated marketing enables targeted offers via the website or shop.
Example 5: Automatically more and better reviews
Review management is an enormously important component of restaurant marketing. Because reviews ensure more visibility and thus higher guest traffic. At least if the positive reviews clearly outweigh the negative ones. However, it is in the nature of human beings that they tend to speak up when they don't like something. On the other hand, praise and expressions of gratitude tend to go unnoticed. We all know this only too well from family and professional life. But this can be controlled.

The restaurant receives more and more very positive online ratings if it makes it easy for satisfied guests in particular to rate the restaurant - and also actively reminds them to do so. This makes the restaurant more visible in Google searches and on rating portals and attracts more new guests.

The reservation system is set up so that guests automatically receive an email with links for rating the restaurant on their preferred platforms after their visit. The mail dispatch can be suspended manually, for example if the service staff had the impression that the guest was not satisfied.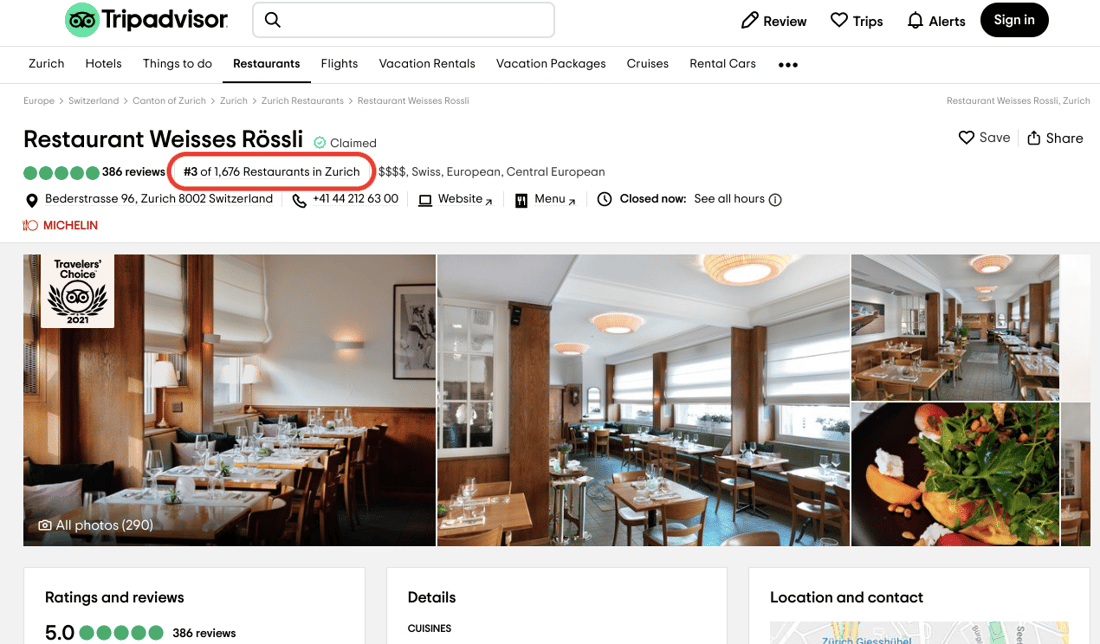 Photo: The restaurant Weisses Rössli in Zurich uses automated marketing for review management and thus holds third place in the TripAdvisor list.
Another option that can be completely automated is that only those guests who have already been there twice receive a review email. This ensures that only guests who enjoy the offer, ambience and attention are asked to rate the restaurant.

There are countless other ways to do pinpoint restaurant marketing to ensure that the business is always busy and guests come promising high sales. How to maximise success with digital restaurant marketing and what the necessary prerequisites are is shown in the article "Restaurant marketing fully automated and personalised - a guide in 4 steps".
---
aleno is the only restaurant reservation system that offers extensive two-way integration with Mailchimp. Details about the aleno Mailchimp integration can be found here.

If you want to know how to connect the aleno reservation system with the all-in-one marketing platform Mailchimp, you can find the quick guide here (spoiler: it's really quite simple).
Liked reading? Share it!