The heated discussion about a restaurant on the Baltic Sea that does not serve children under the age of 12 shows that there are very different opinions when it comes to children and restaurants.
The parents feel deprived of their freedom if they cannot visit a restaurant with their children. The childless, on the other hand, feel restricted by the presence of children.


But there is more than one restaurant, so there is always a choice for the guests. And conversely, restaurateurs, like other private providers, are basically free to select their guests and to restrict access to what they have to offer. Only 21 and over in the club? Usual. Women's bathing establishment? No outcry. Fan pub? Nothing for the opposing supporters. Gay sauna? No longer a cause for heated debate.
For some customers, there are good reasons why not everything is open to everyone. And this should not be confused with discrimination either. As a rule, it is simply a matter of many years of experience as to what a tailor-made offer for the target group looks like and what it takes to create the desired atmosphere to make the guests happy. And this also applies to families, parents and children.
Whether a restaurant can take children seriously as guests and respond to their needs depends on the local conditions and the gastronomic concept.
The children's paradise is a parents' paradise is a family paradise
If you position yourself as a family-friendly restaurant, you have to be attuned to the needs of parents and children. And these needs change very quickly with the age of the children: from the changing table, the warming of baby food and space for strollers, to the high chair and toys. This is the range that needs to be offered.
And children - like adults - have their own needs, preferences and allergies. So they have to be taken seriously as guests.
Or as Kathrine Berger Meili, founder of the consulting company Gastro4kidzz and the online restaurant guide Food4familiy.ch, puts it: "It's important that hosts who appeal to families are then also really child-friendly."
What does child-friendly mean?
In a restaurant or café, people eat, drink, celebrate. In addition, sleeping is done in a hotel. Even if the needs of children and adults coincide in some respects, e.g. Wiener Schnitzel and French fries, they also often diverge. An example: tasting menus with long lingering at the table mean a delightful evening for gourmets, but boredom for children.
So, depending on what is on offer, it is very important that there are not only appropriately appealing drinks and dishes for adults but children. "Taking children seriously as guests also means that toys and rooms for children are also in very good condition and up-to-date," says Berger Meili.
At best, restaurants and hotels also offer separate areas. For example, a playground, corner or room for the kids, so that adults and children don't have to compromise all the time and, above all, questions of education - which may be answered in very different ways - don't affect the other guests.
Child-friendly - what matters
Berger Meili offers certification, in addition to advice, on what else is needed for a child-friendly restaurant or hotel. For the seal of approval, restaurants must meet the following criteria:
Children's chairs are available


Service staff take the following points into account:

Parents and children are greeted in a friendly manner
Family-friendly positioning (if possible near the play corner or as close as possible to the playroom or with a view of the playground)
Children's activities are available at the table, they are asked if they want them or they can fetch them themselves.
Children receive their food before the main course of the parents if desired



Entertainment possibilities are present:
coloring utensils or toys at the table
play corner and/or playroom with age-appropriate play activities and/or a playground
the range of activities is regularly checked and defective items are replaced



At least 3 options are on offer on the children's menus. Vegetables are included in the menu or can be ordered separately
A baby changing facility (ideally a changing table) is available


Parking space for the baby carriage is available


There is a reheating facility for baby food


Child-friendly is also an exclusion criterion
A salad or vegetable side dish does not make a vegetarian restaurant, nor does omitting the steak. It is no different when it comes to child-friendliness. The range of drinks, food, and activities must therefore be explicitly and comprehensively appeal to children. Ketchup as an add-on to pasta. Sure.
A "Child Friendly" certificate is a strong signal not only to parents, for example, even when they are looking for a location for family events such as birthdays, weddings, or christenings.
They are also a signal for those who prefer an environment without children and accordingly other restaurants. This already prevents different interests between adults and considerably relaxes the atmosphere in the restaurant. It also takes the pressure off the service staff, who do not have to play the role of a mediator.
From personal experience
Restaurateurs become more aware of the issue of children when they become parents themselves. Parenthood can also be a strength in service. Although parents sometimes have a difficult time as employees due to family-unfriendly working hours in the catering industry, they have a lot to offer: When dealing with families, they bring with them what it takes to make parents and children happy guests and generally prevent tensions in the situation in a relaxed manner: patience, understanding, and knowledge of the specific family needs.
Waiting times should also not be underestimated: Children in particular - how could it be otherwise - have little insight and thus often less understanding of the processes in the restaurant, for example, that they still have to wait for dessert or the bill. It is precisely in these situations that digital solutions for pre-ordering as well as payment in advance or at the table via smartphone can substantially cut down waiting times so that the evening ends with happy and not stressed out guests.
Child-friendliness: market gap or financial gap?
More than 70 percent of adults over 40 have children. Accordingly, the proportion of childless or child-free people is still large, and experience shows that they eat out more often. There are many of them. Can we do without them as potential guests?
But the question can also be posed differently: Aren't both groups large enough as target groups for a restaurant or hotel?
Basically, the supply of child-friendly restaurants is smaller than the demand for them. On the one hand, this has to do with the expense for the restaurant itself - which, however, can be well worth it! In addition, parents like to return to restaurants and hotels if they had a good time there as a family. And regular visits also turn children into tomorrow's guests.
On the other hand, you don't completely lose parents as guests if you don't have a room and a children's menu. They do come, even if not so often: with or without children. However, the satisfaction of all guests requires some attention from the staff - both in service and in the kitchen - and it is not always possible to guarantee it for everyone.
Conversely, adults without children are more willing to spend: they eat and drink more, and they also spend more nights out. However, this target group is more mobile, more agile and more flexible and more interested in new experiences, so it is more difficult to keep them as regular guests. So unlike with parents, events, innovations, and good and targeted communication about them, e.g. via newsletters and social media, are particularly important here.
Position and communicate: Child friendly or not
It is generally advantageous for restaurant staff to know in advance whether children are part of the table party or not. If you use the aleno reservation management system to find out how many adults and how many children you are reserving for when you make your online reservation, you can place the guests at suitable tables accordingly - either manually or automatically. This simplifies planning and preparation - from purchasing to the preparation of children's boxes, etc. Here is an example of how such a query can look when making a reservation: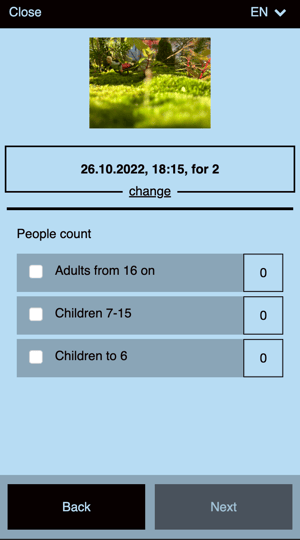 Anyone who wants to position themselves clearly, child-friendly or not, should also communicate this clearly, e.g. on the website, ideally with a "child-friendly" certification. Those who automatically collect corresponding data during online reservations can also use this later for target-group-specific communication, e.g., inform guests with children specifically about the family brunch. The connection to newsletter systems such as Mailchimp is of great advantage here, as the desired guest segment can be selected automatically.


On the other hand, it is a matter of taste whether children should be denied access and whether this should be announced. In any case, it does not go down well with everyone. Often, even the menu card without children's dishes or with the note that there is not enough space for strollers is a sufficient hint that the restaurant or hotel is primarily geared to the needs of adult guests.
Conclusion
Anyone who welcomes children as guests must take them seriously. And those who position themselves as a child-friendly restaurant or hotel must also offer corresponding offers from the menu, service and premises to activities.
Those who decide to do so should consciously communicate this via webpage, newsletter and social media and register on appropriate platforms to reach the desired guests and also send a signal to all others if they prefer child-free zones.
At the moment, the demand for child-free restaurants seems to be greater than the supply.
Conversely, those who gear their offer to adults should also communicate this, albeit more discreetly and not in a discriminatory manner. This also has advantages, because the per capita turnover of child-free restaurants is higher than that of adults accompanied by children.
Software solutions are a great help in the implementation in both cases. From the recording of the number of children in the online reservation, the placement at specific family tables, the advance planning in the kitchen and service to the possibility of targeted, automated marketing.