Many restaurants swear by the blue "Reserve a table" button on Google products. It promises more visibility and high user-friendliness. But who can actually use it? And how do you get it?
"Reserve with Google" is a special service of the search engine provider. The function enables users to reserve tables in restaurants directly via Google Search, Google Maps and Google Assistant.

You have probably already noticed the blue button"Reserve a table" when searching for a restaurant: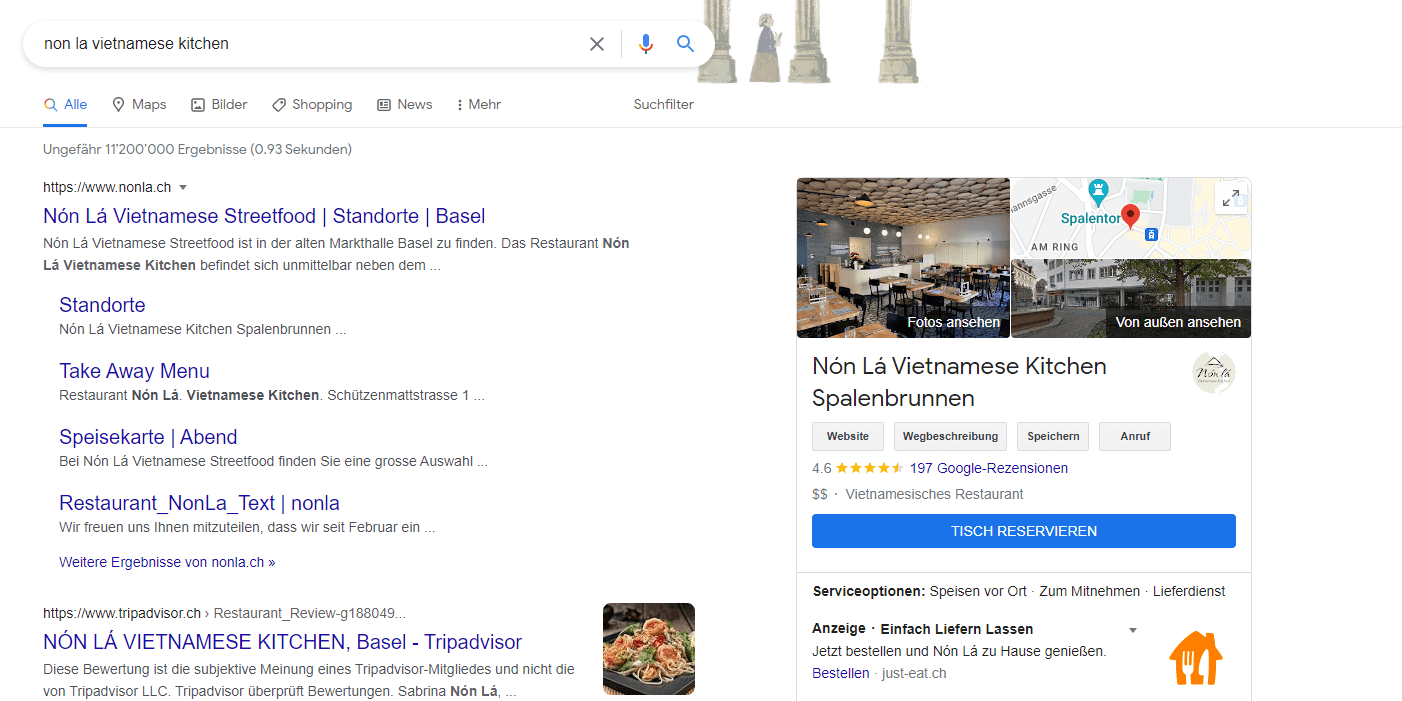 This is exactly what the"Reserve with Google" function is all about. Restaurants that use this function receive significantly higher visibility in Google services and thus usually also more reservations.

Unlike other booking portals, guests do not need a login to make a reservation. With just a few clicks, a table can be reserved - whether on a smartphone, tablet or desktop.

There are not detours to other websites or booking portals. Users can book directly via Google services.

Businesses with multiple restaurants should create Google My Business profiles for each restaurant accordingly, so that users can also reserve each restaurant via Google services.

Especially hotels can significantly improve visibility and reservability with separate Google My Business profiles for each hotel restaurant and thus increase the number of online reservations or guests in each of their restaurants.

The service is available to those restaurants and hotels that use a Google-approved reservation system. aleno is an official partner of Google. Restaurants using the aleno reservation system are bookable via Google. If they want to use this function.
What "Reserve with Google" in connection with aleno means:
New channels for reservations directly in Google are available.
Partner restaurants receive the highly visible reservation button in Google search.
Guests can conveniently make reservations via the booking button without having to provide all contact details each time.
The booking process in Google is fast, intuitive, and easy for guests.
Google gets access to all free tables available through the aleno reservation system.
Bookings from Google are synchronised with aleno in real time.
Unlike other reservation portals, guests do not need an account to make reservations.
What do I have to do to use "Reserve with Google" in aleno
?
Have an account with aleno (if you don't already, simply book a free demo here).


Sign in to Google My Business and make sure the address in Google and aleno are an exact match (if you don't have a Google My Business account you can create it here).


Go to the aleno Marketplace to request access to the integration.


An aleno member reaches out to walk you through the onboarding and taking care for the rest.


aleno establishes a connection to Google so guests can reserve directly in Google Search and Google Maps.


Guest reservations are now passed from Google to aleno.
What should restaurants be aware of when using "Reserve with Google"?
Google strives to continuously improve the user experience on its own services. Since this works best on Google's own channels, the search engine giant also tries to keep users on its own channels - for example, in Google Search or on Google Maps. But there is one thing that restaurant operators do not always take into account.


Sometimes restaurants have reservation systems in place that charge referral fees. These are those that have their own booking portals through which guests can make reservations at all kinds of restaurants. Users navigate to the portals and then make reservations through them. They get paid for this service. Only reservations made via the restaurant's own website are not charged extra.

Since Google has integrated the reservation service directly into its offers, guests are not even directed to the restaurant's website. Individual booking portals nevertheless charge fees for these reservations, even though Google has referred the guests. In some cases up to 4 euros per guest. This is different with the aleno reservation system. There are definitely no guest referral fees charged.
Can the reservation form be customized?
This is a form set by Google. Regardless of which recognised reservation system a restaurant uses, the same information is transmitted.

Smart reservation systems like aleno, on the other hand, offer the possibility of individual queries - for example, whether small children are present, whether someone is vegetarian or has allergies. These additional queries are not available with "Reservation with Google", but all other functions are. For example, no-show avoidance, individual reply emails, automatic table allocation, detailed and useful reporting, shift management and much more.
Want to learn more about how aleno's guest management software works with Google and how it can benefit your restaurant? Simply request more information or book a free live demo.