L'Osteria is represented at 130 locations in eight European countries. The restaurant group is using the lockdown period to reconcile onsite and offsite business as best as possible. Mirko Silz, CEO of L'Osteria, reveals in an interview how it works and what aleno has to do with it.
What does Covid and the lockdown mean for the L'Osteria company?
In short, it is a catastrophe. It affects the entire workforce, as well as the ownership group and franchise partners. In addition, everyone who is involved somewhere in the entire value chain. So also suppliers and service providers.
In figures?
It means a 70% drop in sales for us. And that will also have an impact on the time after the lockdown. Because this goes hand in hand with a reduced pace of growth. All the more reason for us to accelerate our digital efforts.
What digital efforts are you talking about?
We have recently built up the delivery business. This means installing an ordering platform together with a third-party provider and building up our own delivery fleet. We also launched an ordering app that allows guests to make reservations online.
We already generate 30 per cent of our pre-Corona turnover with out-of-home activities. At the end of last year, it was even up to 40 per cent at peak times.
Beyond that, the main thing for us at the moment is to prepare for the time when the restaurants open again.
Specifically?
We equip some of our restaurants with special pick-up stations for our guests. This is to ensure a better handover for those who come in person. And to enable shorter delivery times. At the same time, we want to disrupt the onsite business as little as possible with the out-of-home business.
How is L'Osteria also using lockdown time to position itself even better for the future?
Last but not least, it is also about cost optimisation and the development of various budget scenarios. At the same time, we want to improve digital communication - both in the direction of the employees and in the direction of the guests.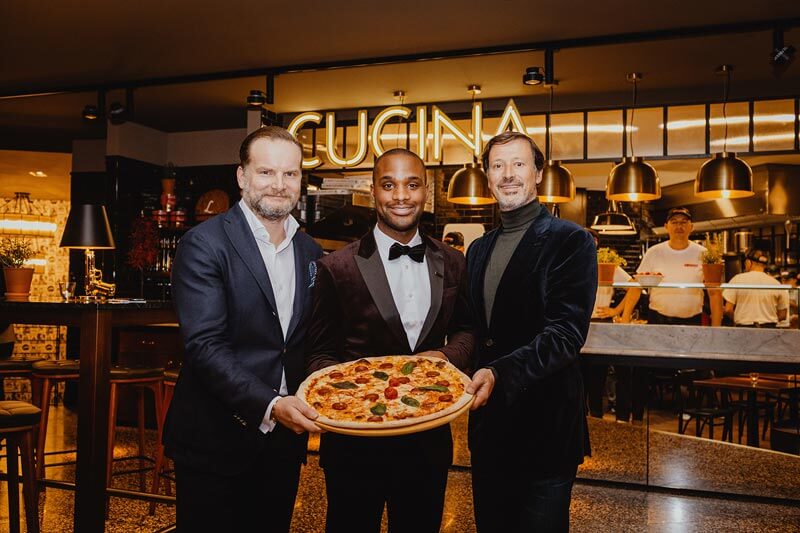 Mirko Silz (left) with Senior General Manager Jeffrin Pelkmann and L'Osteria founder and Chairman of the Supervisory Board Klaus Rader (right) at the opening of the 100th branch. Photo: L'Osteria)
Will there be many restaurant closures due to the impact of the Corona pandemic?
I believe that business models that were successful in pre-Corona times will be successful again after Corona. For many restaurants with business models that had difficulties existing on the market before Corona, however, the pandemic will probably be the death blow. In Germany, the introduction of the statutory cash regulation and the connection to the tax offices will also cause problems for many restaurants. One must therefore be careful and look closely to see whether the reasons for the final closure lie in Corona or in other circumstances. But yes, one or two restaurants will also be affected through no fault of their own - despite a good business model. For example, because of late arrival of liquidity support from the state.
Will restaurants that inevitably have to close be taken over by restaurant chains and large hospitality holding companies?
There will certainly be a market shakeout here and there. But I do not assume that this will lead to a significant market concentration.
To what other extent will the Corona crisis have a lasting effect on the restaurant business?
There will be a stronger hybrid orientation. On the one hand, a perfect guest experience will become even more important in the future for onsite activities, i.e. the classic restaurant business, where a feel-good atmosphere and service have always been important. On the other hand, offsite gastronomy is gaining massively in importance. In other words, the delivery and take-away business will become an important pillar.
What will be the biggest challenge for restaurants after the lockdown?
First and foremost, finding enough employees and integrating them. This is because some of the employees have to get used to changed framework conditions. This also includes the use of new tools. Those who have been more analogue in the past will soon find one or two more help tools. This also applies in particular to managers who control the restaurants. They have to learn how to deal with the new technology. So, in addition to the full service for the guest, there are now certain technological challenges.
Are there other expected changes for the restaurant business as a whole?
Yes, for example the strongly growing take-away and delivery business. The main issue here is to integrate this into the processes of the Impuls service restaurant operation. This also means preventing possible capacity bottlenecks. Our pizza ovens, for example, have a certain maximum capacity. If we want to push for a sustainable expansion of our out-of-home activities, we have to be able to produce more pizzas during peak times - which for us are mainly Saturday evenings. After all, the delivery orders come on top of that. The same applies to table occupancy. In the coming months, we will probably have to live with seating restrictions resulting from the Corona protection measures. The problem is that we generate about 60 per cent of our turnover in the evening.
Especially on weekends, we have to increase the turnover rate in order not to suffer too much from a drop in sales. It helps that we introduced the white-label reservation system aleno last year.
At the moment, privileges for people with Corona vaccinations are being hotly debated. Are you planning to introduce a vaccination certificate as an entry requirement for visiting L'Osteria restaurants?
No. We follow the recommendation of the German Ethics Council. Its position is that at the present time no distinction should be made between vaccinated and non-vaccinated people. I quote: "It is reasonable for a vaccinated person to keep a distance and wear a mask." We see it the same way. Besides, we have an interest in a broad guest structure. Therefore, we don't want to be the ones who check at the entrance door whether a vaccination card is present or not. If I imagine what kind of tumultuous scenes it could lead to on Saturday evenings - I would probably have to put a security guard there as well. Because one or the other guest would definitely go to the barricades. We have already had the experience of registering guests and enforcing other Corona protection measures that there are guests who make extremely critical comments. Although we are only implementing legal regulations. These are unpleasant situations. We stand behind the protective measures and support them. But we don't want to decide who is allowed in and who is not on the basis of a vaccination barrel.
Let's talk about digitalisation: What is your strategy for your restaurant group?
Digital transformation is an enormously large field. We have divided it into three areas - we call them domains. The first is the guest journey. The second is the restaurant - the processes and procedures. And the third is our administration in connection with the restaurants. The order is also our priority. Strategically, everything that serves the guest is to be prioritised. So the focus for us is on those activities that add value for the guest. And then for the employees. Ideally, of course, for both. However, the decisive factor is always that all digital efforts must also create value in the end. There's no point in digitising if there's no added value for people at the end of the day.
Has anything fundamentally changed in the digital orientation for L'Osteria in recent years?
The company was founded in 1999, 22 years ago. Until about 4 years ago, most of our processes, especially in our core business, were done by analogue or manual labour. That starts in the restaurant. The waiters handled pen and paper. And they did so deliberately. Because it was part of our brand positioning. We stand for Italy and handmade - for example, freshly produced pasta. We wanted to convey this "handmade" aspect in the service as well. In other words, to serve the guest without technical means. At some point, we started using Ordermans and other technical aids. This enabled us to optimise processes and serve guests better. We expanded this step by step.
This change - away from handmade - was accepted by the guests?
We are not replacing the pizza baking of our Pizzaolos or the friendly service of our staff.
Digitalisation is not an end in itself for us, but must above all bring added value for the guest. If they don't have to wait as long for their order or if they don't have to wait in the phone queue for reservations, they have advantages that are also appreciated.
Speaking of approval: How are the changes in the course of digitalisation received by the staff?
Change management is an important topic. Changes brought about by digitalisation are not always cheered by everyone. Bringing the traditionalists together with the progressives still takes up a lot of space. Therefore, it is also about demonstrating the need for such changes.
What is particularly important when using digital tools?
User-friendliness comes first. If a tool is not user-friendly, it will not be used. Secondly, the tools must create added value. And for those tools that are involved in the guest journey, we are also completely concerned with collecting data - within the framework of data protection regulations.
You just mentioned data: What is the importance of data for the guest experience?
It is enormously valuable for us to know at the end of the day: Who is our guest? What does he want from us? How does he use our brand - both onsite and offsite? This knowledge about the individual guest enables us to put together even more suitable information and service offers for them and to better tailor our service to them.
To what extent does guest data help to make the restaurant business more successful - today and in the future?
About Mirko Silz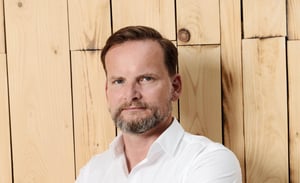 Mirko Silz was born in Leipzig in 1972. After training as a merchant for wholesale and foreign trade, his path led him into the system catering industry in 1991. His first stop was McDonalds, where he held various management positions in Leipzig, Dortmund and Bonn until 2005. In 2006, he became CEO of Vapiano SE and continued to develop the company until 2011. From 2014 to 2017, he and his wife ran two restaurants of their own in Dresden as franchise partners of the L'Osteria brand. During this time, he also acted as CEO of Coa GmbH. Since 2016, he has now been focusing entirely on L'Osteria. As CEO, he uses his roughly 30 years of experience in system catering to steadily drive the Europe-wide rollout of the brand - without losing sight of the needs of his employees and guests. In his private life, Mirko Silz is happily married and lives with his family in Munich.
About L'Osteria
The mother of all L'Osterias opened in Nuremberg in 1999. It quickly became an insider tip. This success encouraged the founders, Friedemann Findeis and Klaus Rader, to spread the concept further. Restaurants followed in Rosenheim, Regensburg and Munich. Soon it went from Bavaria to all of Germany. Currently, L'Osteria is represented at over 130 locations in eight countries. The company is based on a three-pillar principle: company-owned restaurants, joint venture¬ and franchise restaurants. Around 65% of the locations are operated by franchise and joint venture partners, while 35% are owned by FR L'Osteria SE itself.