Restaurant = dining out? That was once upon a time. Gastronomy and the hotel industry have long since established new online distribution channels such as take-away or delivery. Web shops are also an interesting option. When does web shop pay-off? What is important? And above all: What is the point of a web shop at all?
Let's look back a little. The catering industry opened up new distribution channels, not least during the pandemic. Eating IN the restaurant was not a option. Take-away and delivery are old acquaintances, but many have also made new friends with them. So for many, online sales are no longer new.
Inflation comes on top. The easiest way to save is stop dining out. A suitable measure against stagnating or collapsing sales is an additional distribution channel such as a web shop. And not only because of the additional turnover with a manageable effort with the existing guests.
Web shop as new market: products and customers
With the web shop, you don't just reach existing guests, but also those who don't go to the restaurant very often, who like to cook at home or who don't live nearby. And finally, it sells what was not sold before. In short, the web shop opens up a new market at a reasonable cost.
Customer loyalty
Of course, it is easier to reach and retain former guests. And not only easier, but also cheaper. Those who use an online reservation and guest management system like aleno in their restaurant can write to their guests specifically according to their preferences.
After ordering the steak with Beurre Café de Paris in the restaurant, why not trigger an automatic mail with the offer of the in-house Café de Paris seasoning?
This is not a clumsy offer, but a tailor-made offer for the guest. Up-selling at its best and to everyone's benefit. Guests remain loyal to the restaurant.
Branding: No market without a brand
The web shop is an excellent channel to strengthen your brand and to be remembered by your guests. If you brand your popular spice blend, you will be remembered every time your customers use the spice blend at home, i.e. at a moment of great pleasure. There is no better way to position your brand than in combination with a wonderful feeling.
The branding therefore awakens fond memories in old guests and the desire to visit the restaurant again. And for new customers to do so for the first time. And mind you: this is not an expensive advertising measure with the uncertainty of whether the advertising will be seen at all and trigger something. After all, something is earned with the sale of the web shop products. The branding comes on top for free, so to speak.
Success with the web shop: These 5 points are important
To make sure that the web shop really works, it is worth putting time into the conception and not only dealing with possible web shop tools. The following 5 points will help you to achieve your goals with the restaurant or hotel web shop.
1. What purpose should the products fulfil?
If you are looking for reach for your brand, you should choose a product that is also publicly displayed. The guests then become advertising media. The classics in this area are, for example, T-shirts, caps, bags or lighters.
In-house products such as sauces or long-life foods, on the other hand, are products to bind guests to the restaurant. For example, if the products are given to friends as gifts or served at a private dinner - because then people also talk about the restaurant and the wonderful experiences there. Vouchers with appropriate branding are a natural part of this. A guarantee for future visits to the restaurant.
Conversely, keep your hands off everything else. If there is no connection between the product in the web shop and the restaurant, then the branding doesn't work. Nobody goes to the website of the sushi restaurant when they need a new Bluetooth headset.
Example: Restaurant Mural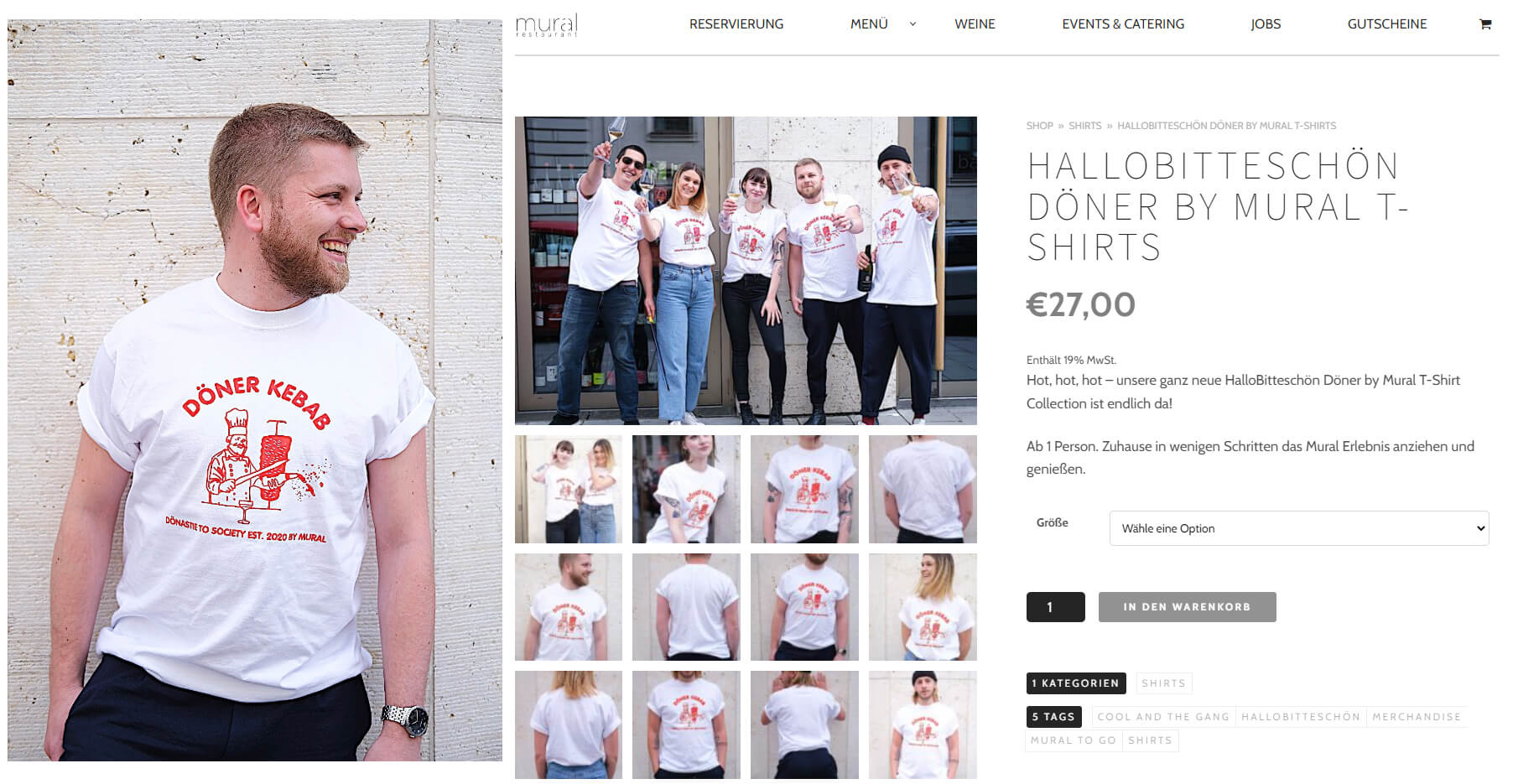 During the lockdown, the crew of the Mural restaurant and bar in Munich unceremoniously created a dish on hand that one would not exactly have expected for a star restaurant: kebab. The reason is mundane: Mural's managing directors Moritz Meyn and Wolfgang Hingerl (see also our interview with the newly crowned Gastronomer of the Year 2022) have always wanted to "get a good kebab joint going". So they gave the kitchen team the task of creating a kebab à la Mural.
The Mural crew also designed a T-shirt that quickly gained cult status among fans and was - and still is - ordered countless times via the webshop. In a funny way, the wearers still draw attention to the Mural restaurant and its unconventional style.
Example: Restaurant chain L'Osteria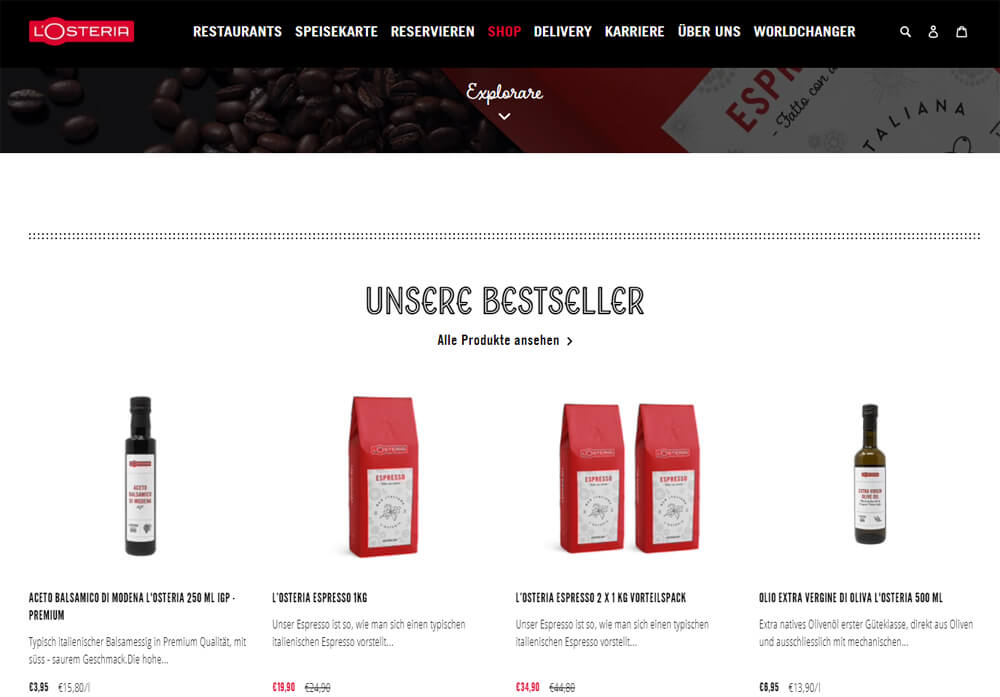 L'Osteria's web shop, with 25,000 to 30,000 visitors a month, is geared towards customer loyalty. "With our web shop, we want to give our guests the opportunity to bring a piece of L'Osteria into their own four walls and to be able to enjoy our products at home," explains Samantha Dörfler, Senior PR & Corporate Communications Manager of the Italian Gastro-Brand with 157 outlets in 8 countries.
The web shop has a clearly defined product range. "The focus here is on our self-roasted espresso from L'Osteria's own coffee roastery Bar Italiana. But products like our own olive oil, our balsamic vinegar or wine are also popular with our guests."
Example: Restaurant Rutz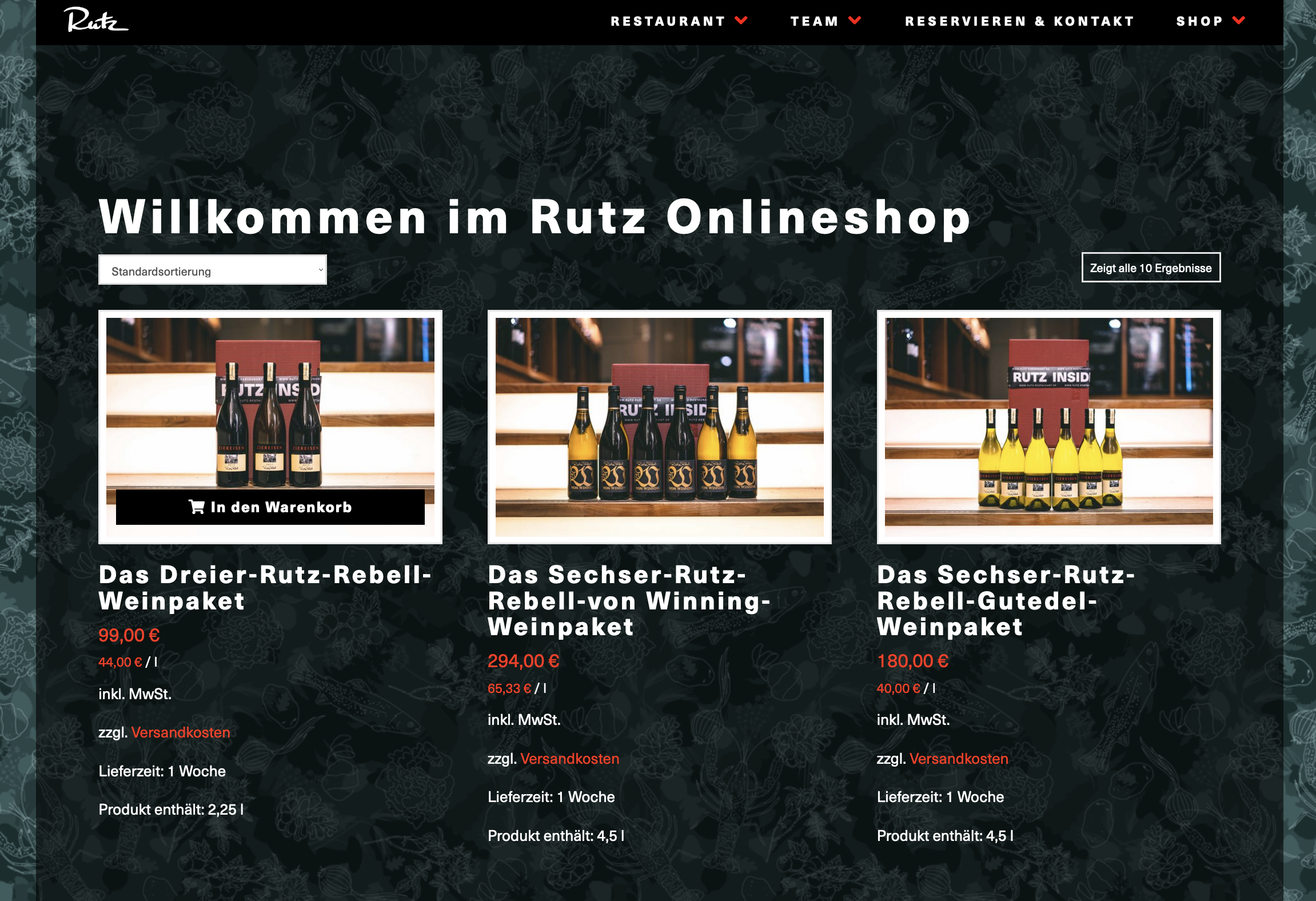 For a Wine&Dine concept, branded special bottlings lend themselves to the web shop. A good example is the 3-star restaurant Rutz in Berlin. In the web shop, the exclusive bottlings called " Rebellen Rutz" (Rutz Rebels), put together by sommelière Nancy Großman, can be ordered.
They not only round off the individual courses, but also often find a place in the domestic wine repertoire. The "rebels" are created in exclusive cooperation with prestigious wineries. The wines are not available anywhere else - they are a flagship of the restaurant and thus ideal for branding and customer loyalty.
2. Margin ist not everything
What is popular, what is frequently used, that sells. But be careful. Products such as jams, salad dressings or oil, which are available everywhere, must stand out in quality or style so that they are bought on the one hand and strengthen the brand on the other.
Moreover, only what is profitable should be sold. A minimum margin of 30 per cent should be aimed for. Finally, costs and work are also incurred in connection with the web shop. Especially in large companies, the products used in their own restaurants can be resold in the web shop. Thanks to large quantities and correspondingly favorable purchasing, a good price can be offered.
Nevertheless, restaurant web shops have long been seen by their operators not primarily as a direct sales driver. "We cannot speak of a significant contribution to turnover so far. Rather, our web shop is an important and great add-on for our guests. We are primarily interested in customer acquisition and loyalty, but also in an additional service for our guests as well as a further point of contact with the L'Osteria brand and an increase in brand awareness," says Dörfler.
The increase in turnover does not come directly through the sale of products, but indirectly through the associated customer loyalty and branding.
3. Logistics: Here and there
In the web shop, it's like in the restaurant. When it's gone, it's gone. And not only the products. If the desired product is not available also the guests. When making a selection, it is therefore important to ensure that a product can be quickly procured or produced again and can therefore always be offered in the web shop.
And then the products not only has to arrive, but also have to be sent out. Packaging and transport should therefore be neither complicated nor expensive. Accordingly, when selecting products for the web shop, their formats and shapes, care should be taken that packaging and postage are not prohibitively high. So if you sell smoked eel, it's better to chop it up or snake it down to the size of a parcel instead of having to send it stretched out nicely as bulky goods.
4. The web shop: beautiful and informative
You can't touch or smell anything online. So other senses have to be addressed in the web shop. The eye also buys. The products should therefore be beautifully presented. A fine arrangement with a natural background is much easier and more effective than presenting the products well against a white background.
Special products have a special story. You have to write it down. It is the sales pitch of the web shop. How did you find it? Why did you choose a product? Where does it come from? How is it made? What makes it special? What do you love about it? How do you love it most?
A beautiful description of your own is an effort, but only then does the product become tangible. And only then do the customers grab it. The hard facts such as size, dimensions, material and ingredients should not be missing.
And, not to forget: It's all about business, online. So trust and information are central. There is no place for mystery or uncertainty. Conditions such as delivery times, return rights and routes, shipping costs, etc. should therefore be easy to find in the web shop and clearly communicated.
5. The web shop: Customer-friendly processes
Remove obstacles to make it work. Ordering, payment and delivery must be easy. So different payment methods should be offered that work just as smoothly on the desktop as on the smartphone. If there are problems with the payment process, not only do you miss out on sales, but it also annoys customers.
It is ideal if the web shop is connected to the POS, as is the case with Lightspeed or Hypersoft. Payment and invoicing are then automatic.
For a perfect workflow between guest management and web shop or cross-selling between restaurant and web shop, the reservation system should also be connected. Promotions in the web shop or restaurant can then be made known and popular among the respective guests and customers. This increases sales and strengthens the brand. The aleno reservation system offers a corresponding interface.
Conclusion: Web shop
For restaurants, selling through web shops is an excellent opportunity for further income and greater popularity. With branded products, whether homemade or deliberately selected, you are remembered fondly by previous guests and arouse interest in everyone else.
The more popular the product category, the more representative of the restaurant, the more attractively presented, the easier it is to buy via the web shop and the better the web shop is connected to the software environment of the hotel or restaurant, the greater the success: first with the web shop itself and subsequently also thanks to a stronger brand in the restaurant.